---
XVI Edition: Winners!
La lista dei vincitori della XVI edizione
Giuria /Jury
Prof. Diego Bastianutti, Prof. Chiara Catapano, Dr. Marji Čuk, Dr. Guido Cupani, Prof. Stefan Damian, Prof. Pietro U. Dini, Prof. Silvia Favaretto, Prof. Franco Gatti, Dr. Irini Karavalaki, Dr. Giancarlo Micheli, Dr. Isabella Panfido, Prof. Elvira Dolores Maison Prenz, Dr. Liliya Radoeva Destradi, Prof. Enzo Santese, Prof. Michele Sità, Dott. Silvia Storti, Dr. Antonio Staude, Dr. Iza Strzelecka, Prof. Anna Zoppellari. 
Vincitori/ Winners
SEZIONE I: Poesie inedite /Section I: Unpublished Poems
I Premio (€1000 -a part to be devoted for humanitarian scope- and publication for free)
May Ekene (Nigeria), The Butcher/ Il macellaio
II Premio (€ 750 -a part to be devoted for humanitarian scope- and publication)
Elbeau Carlynx (Haiti), Réminiscence/ Reminiscenza
 III Premio (€ 500 -a part to be devoted for humanitarian scope- and publication)
Slađana Lazić (Serbia), Freedom/ Libertà
 Segnalazione speciale della Giuria (Plate and Publication)
Louis Bertony (Haiti), Pèlerin de l'amour/ Pellegrino dell'amore
Patrocinio UNESCO (Plate and publication)
Alexandra Evtimova (Bulgaria/ Colombia), I am not/Non sono
Targa Alut (and publication)
Prosper Anuforoh (Nigeria), Prayer of a broken transgender
Premio Sergio Penco
Targa in memoria del poeta "Sergio Penco" ad un giovanissimo (e pubblicazione)/ "Sergio Penco" Plate to a very young poet (and publication).
Maria Gkeka(Grecia, 14 years old), Άνθρωπος κατασκευαστής: Ελευθερία και πεπρωμένο /Homo faber: libertà e destino
Poesie selezionate per la pubblicazione /Selected Poems for publication
(Pubblicazione gratuita Italiano/Inglese e registrazione delle poesie nelle lingue originali su youtube/Publication for free Italian-English and recording of the poems in the mother tongues
on youtube)
Adela Adriana (Romania), Atunci și acum/Allora e adesso
Balakrishnan V S  (India), Behind the mask of Civilization/ Dietro la maschera della civiltà
Marija Dejanović (Croazia), Vrijeme dugog oporavka /The time of long recovery
Chinua Ezenwa-Ohaeto, (Nigeria), A butterfly in a sea of thorn/ Una farfalla in un mare di spine
Jasmin Fürbach (Austria), Dialogue of empty Words/ Dialogo di parole vuote
Raúl Guerrero Payo (Spagna), El creador/ Il creatore
Monika Herceg (Croazia), Nepazljiva ptica/ l'uccello distratto
Michele Lionetti (Italia), Achinonlovede
Paolo Martini (Italia), Dear mama
Mayco Osiris Ruiz (Messico), Homo faber
Alberto Pulido Altarejos (Spagna), Una vez más/ Un'altra volta
Berariu Vlad (Romania), Inner Connections
Paula-Cristina Tecșilă (Romania), cu ochii legați/con gli occhi legati
Rostislav Yartsev (Federazione russa), Вышел Гоголь из шинели../.Gogol è uscito dal cappotto
Christina Yasenova (Bulgaria), The whole was me
Osman Yousufi Siria/ Germania, Mondphasen/ Fasi lunari
Catalina Vesca (Moldavia /Irlanda), Non rem
"Poesie del cuore" / "Poems of the heart"
Leonardo Alfiero (Italia), Canto del carcerato
Cristiana Ioana Badea (Romania), Descoperindu-l pe Vlad/ Alla ricerca di Vlad
Giulia Bonuccelli (Italia), Un mondo rotto
Dylan Casamatti (Italia), Altri maestri
Charikleia Chrysafi (Grecia), Ένα παράθυρο με κόκαλα και αίμα/ Una Finestra d'ossa e sangue
Oriada Dajko (Albania), Konkuista e qiellit/ La conquista del cielo
Aicha Dounia Herzallah (Irlanda), Like a god/ Come un Dio
Lisa De Luca (Italia), Ora che sei
Marcella Diviggiano (Italia), Autunno
Simone Innico (Italia), Crisso e Vico
Desanka Jauković, (Montenegro), Disillusione onirica
Elena Kaufman (Germania), dieses gedicht habe ich für mich selbst geschrieben/ Questa poesia l'ho scritta per me
Maria Natile Martino (Italia), I liberi schiavi
Ahmet Murat Irmak (Turchia), Gezgin/ Viaggiatore
Christopher Olivas Mc Pherson (Messico), Vivo Souvenir
Eleonora Laura Pasqualetto (Italia), Naufragare
Renata Pencova (Macedonia del Nord), Глаголосоголување/ Denudare dei verbi
Camila Rios Armas (Venezuela), Tierra que es silencio/Terra che è silenzio
Beatrice Tagliapietra (Italia), Labirinto
SEZIONE II: TEATRO/ Section II: Theatre
Giuria/ Jury
Prof. Paolo Quazzolo, Dr. Isabel Russinova, Prof. Fabrizio Stefanini.
I premio
Coppa, lettura scenica e pubblicazione gratuita/ Scenic reading and publication for free)
Angelo Napoli (Sud Africa) Destini
II premio
(coppa e lettura scenica e pubblicazione gratuita / Scenic reading and publicationfor free)
Vicki Rubini (Italia) Voluntas aegroti suprema lex est
III premio ex aequo
(coppa e lettura scenica e pubblicazione gratuita/ Scenic reading and publication for free)
Eleonora Ferrari (Italia) La nostra amata libertà
Augustin Gori (Argentina) Sono rimaste solo metafore
Segnalazione
(coppa e lettura scenica e pubblicazione gratuita / Scenic reading and publicationfor free)
Alberto de Gaspari (Italia), Ogni martedì alle cinque
GIOVANISSIMI (Under 16)
 La graduatoria dei giovanissimi verrà confermata solo dopo che Genitori e docenti responsabili dell'invio avranno confermato con lettera che la poesia è esclusiva opera del giovane autore
 The list of under 16 will be confirmed only after receiving a new letter by parents and responsible teachers testifying that the young is the only author of the poem!!!
8 anni
Sophia Giannokosta (Grecia), ΑΝΘΡΩΠΕ/ Uomo
9 anni
Ines Obradovic (Croazia), Ode alla poesia
10 anni
Maria Tzouraki (Grecia), Σύγχρονος Οιδίποδας /Edipo contemporaneo
11 anni
Paula Haase (Italia), Amare è creare
Lampros Arkoumanis (Grecia), Ο ΘΝΗΤΟΣ ΔΗΜΙΟΥΡΓΟΣ/ Il mortale demiurgo
12 anni
Giulia Caterina Bailoni (Italia), Il buio dell'uomo (Spiritual)
Micaela Bazzoni (Italia), Creare
Giada Beretta (Italia), Il lavoro
Alice Bianchi (Italia), Noi possiamo Teo Mezzena (Italia), Meditazione
Gaia Cipriano, In una poesia
Micael Crispo (Italia), Il lavoro
Leonardo Dogini (Italia), Homo faber. Libertà e destino
Vittoria Moretti (Italia), Impegno
Elena Moscato (Italia), L'uomo da tempo immemore
Davide Scapin (Italia), Ieri come Oggi
Jacopo Talevi (Italia), Uomo contro uomo
Rome Tumiatti (Italia), I colori
13 anni
Djena Ba (Senegal/Italia), Homo faber
Victor Giusti (Italia), 27 ottobre
Milana Maras (Montenegro), Čvorovi / I tappeti di Aladino
Ivan Obradovic (Croazia), Porta Aurea
Isotta Pirotti (Italia), A voi, Umani!
Ginevra Puccetti (Italia), Cerco il mio problema
14 anni
Sara Džiho (Bosnia e Erzegovina), Sloboda i sudbina / Libertà e Destino
Neža Kosovel Slovenia, Povezan svet/ United world
Lamija Mostić (Bosnia-Herzegovina), Light stronger than fate
Gileschi Nadin-Mihaela (Romania), extatică/estatica
Jakov Obradović (Serbia), Sloboda i sudbina / Libertà e Destino
Miyu Tamura (Giappone), 今 みている空は 何色ですか / Ora    il cielo che guardi   che colore ha?
Sara Tomić (Montenegro), Nebo je granica/ Il cielo è il limite
15 anni
Anca –Iuliana Chermăneanu (Romania), cuvintele mele/ Le mie parole
Efraim Christou (Cipro), Fructus Libertatis
Fabio Mazzon (Italia), Nessun sogno è troppo alto
Lorenzo Mazzuia (Italia), Homo Faber
Daniele Naruti (Italia), Luna
Mattia Pozzati (Italia), Attese
Alessandro Rambaldi (Italia), Silenzio
Alex Zanaboni (Italia), Altrove
16 anni
Gabriele Fava (Italia), Fiato struggente, fato beffardo
Maria Miruna Solomon (Romania), Fresco Karma
Maria Alexandra Stroe (Romania) Modern Lamentations of the beginnings
Segnalazione Teatro
12 anni
Gaia Cipriano, Discorsi Astronomici. Dedicato a Galileo Galilei (scienziato, 1564-1642) e a Zhengyi Wang (scienziata 1768-1797)
SEZIONE III: Progetti scuola /Section III School Projects)
Il premio deve essere devoluto per un progetto umanitario a scelta degli studenti / The amount of the prize has to be given for a humanity project chosen by the students
Premio Speciale della Giuria
Scuola secondaria di secondo grado
rogetto "Faber Scholae- No one's Land"
IIS N.Copernico A. Carpeggiani
Classi 2I, 2N, 3BM, 3N, 5M
Docente responsabile Prof. Elena Leone
Scuola secondaria di primo Grado
Progetto "Discipulus Faber. Poesia e teatro inclusivi. Laboratorio teorico-pratico.
Scuola secondaria di I grado Giacomo Bresadola I.C. Trento 5
Classe 2°
Docente responsabile Prof. Vittorio Caratozzolo
Scuola primaria
Progetto:" Freedom and Destiny of a Human"
Primary School Nikola Karev (North Macedonia)
Teacher: Prof. Gordana Jeftimova
I Premio /First prize (€500)
Progetto: "Parola e Destino"
Scuola secondaria di I grado G. Caprin, Trieste
Classi 2A, 3A .
Docenti responsabili Catia Trombetti, Amelia Esposito, Dario Gasparo
II Premio ex aequo (€ 250 da dividere/ to be shared)
Progetto: "Da Prometeo a Malala"
Perifereiako Gymnasio kai Lykeio Lefkaron and Perifereiako Lykeio Ayios Charalambous Emba Paphos (Cipro),
Teacher Sotiria Papamargariti
Progetto: "Dalle Piramidi a Internet"
Second Chance School of Tripolis (Grecia)
Teacher Vassilios Souvatzoglou
III Premio /Third prize ex aequo (250 € da divider /to be shared)
Progetto: Homo Faber …
1st Highshool of Komotini (Grecia)
Teacher Theodora Arampatzi
Progetto: Homo Faber: Parola Libertà Destino
I.I.S. Jacopo Linussio- I.P.S.I.A G.Cecconi- Codroipo (Udine)
Classe 4 ACR
Docente Responsabile: Prof. Barbara Dominici
Segnalazione /Mention
(Diploma e coppe – le coppe solo per chi partecipa alla premiazione / Diploma and Cups – the cups are given only to participants in the Awarding Ceremony)
Progetto: Homo Faber, I° Gymnasio Artemidos (Grecia). Teacher Caterina-Cristina Spyropoulou
Progetto: "The naive Fox Cub", Special Vocational Secondary and Higher School of Veria (Grecia). Teacher Panagiota Zelou
Progetto "Clessidre", Avgoulea Linardatou Private School/Creative writing Lab (Grecia). Teacher Konstantinos Galanis
Progetto "Everithing is connected", 3rd Gymnasium of Heraklion (Creta). Teacher Styliani Lykogiannaki
Progetto: "Homo Faber", Experimental General Lyceum of Heraklion (Grecia). Teachers Maria Patramani and Eirini Kassotaki
Progetto: "Homo Faber, Libertà e Destino, 4th Gymnasium of Ptolemaida, Kozani (Grecia). Teachers: Alexandra Theofilaktou, Kate Typou, Maria Derenidou
Progetto: "Homo Faber", Scuola secondaria di Primo Grado Italo Svevo, Varmo (Udine) . Classe 2B. Docente responsabile Prof. Mery Broi
Progetto: "Homo Faber, il grande disegno" , Scuola IIIS "Vito Volterra", classe 2H, 1A, 3A. Docente Responsabile Cristina Maria Cibin
Progetto: "Alla scoperta del passato contempliamo il futuro", Scuola Eniaio Eidiko Epalgematiko Gymnasio Lykeio Kastorias (Grecia). Teacher Anastasios Tzilinis
Progetto: "Homo Faber", SOU "Josif Josifovski", Republic of North Macedonia. Teacher Zaklina Atanasova
Progetto: "For the strings", ZSP Szkoła Podstawowa im Jana kochanowskiego (Brzeźnica, Polonia). Teacher Lidia Adamus
Progetto: "Homo Faber/Possibilities", 1st Lyceum of Larissa (Grecia). Teacher Asimina Bafa
Progetto: Sakura Haiku Club, Şcoala Gimnazială "Elena Rareș"Clasa  a VIII-a. Teacher Ciobîcă Cezar-Florin
Progetto "Surely, then: we'll be OK. A Collection", SAINT MICHAEL'S COLLEGE OF LAGUNA, Teacher Inecita Cuevas
Progetto: "Pupils and Poems", Şcoala Gimnazială « Axente Sever », Aiud, Alba, Romania, ClasseVIII a, Teacher Casandra Joan
Sezione speciale "Venezia ed Aquileia"
Pièce teatrale a sfondo storico
Scadenza per la presentazone dei testi 28 febbraio
Recommended Posts
September 29, 2020
September 1, 2020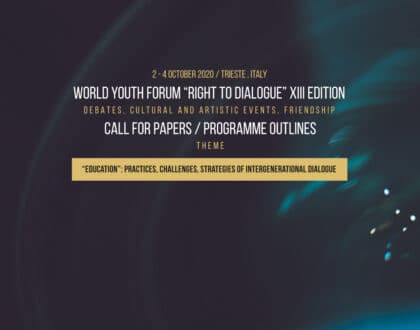 August 20, 2020